Description
Custom Cast Nets Florida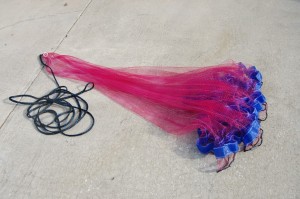 Custom cast nets Florida from iconic net maker, Ed Shumaker as seen in articles in Florida Sportsman print magazine x2. Over 45 years experience and considered the top net builder in the State of Florida. These custom cast nets are for both shrimp and bait fish for both anglers and special needs from commercial anglers.
We do NOT stock or sell these
We want you to call (386)566-9097 and order with Ed Shumaker direct
Custom made to your specifications, you choose the size
Choose color dye for mono
Choose color for webbing above lead line for shrimp net
Choose weight of lead line per square foot
Discount if you say, Lee Noga
Price $15 a foot for Lee Noga member vs $18 for non-member
$25 for webbing if you say Capt Lee vs $30.00
Contact Ed by cell phone only – voice or text
Ships Nationally
Bait-shrimp-mullet-jacks-pogies-mackeral-salmon for commercial, different nets for different baits
#1 choice from both commercial and recreational anglers from Alaska to lower 48 States
Popular size 10 -12 foot, can make up 14 foot, call and discuss
See attached pictures to see Shumaker shrimp cast net , you will see different colors
Call/Text Ed Shumaker (386)566-9097. We do NOT sell this net but we highly recommend it and put it in this store so you can be made aware of this product.
Call him direct. To get discount, say "Capt Lee Noga"
Official cast net of pro angler, female Captain Lee Noga. (summer shrimp net with webbing)