Description
Fishing Shrimping Light For Sale
Patent awarded December 2017, multiple other patents pending on this light.
This 2016  MacDaddy "smart" light™ is the most advanced LED fishing shrimping light released into the market. This light was developed by Pro Angler, Captain Lee Noga who has lead the sport of recreational shrimping since 2010 in Florida. This fishing shrimping light solves all the problems the previous generation (PVC tube shrimping lights) could not do
Hundreds of customers (Key West, Oak Hill, Edgewater, Haulover Canal, Railroad Bridge, Titusville Pier, Gulf Coast & more) have have reported they pulled higher using this smart light compared to their older PVC spiral lights. Capt Lee Noga attributes this to the "build a light bomb" smart light capability with  boosted "High Definition clarity" capabilities. We have had dirty water due to the warm winter waters & nuisance bait fish and catfish covering up our lights. These difficult conditions created difficult conditions forcing anglers to throw the towel in and go home. Those who had the MacDaddy Smart Light™ shrimped right thru the challenges strategically using multiple modes built with the high intensity LED's,  taking home their full pull of shrimp.
Fishing Light – Defaults to sinking & drifting in current, 33 foot cord
Shrimping Light – Accessorized to float upright, bottom attachment hook & split ring for 7 lb anchor to keep light from drifting, 33 foot cord
Tactical Light – Change tire on road, camping light, hurricane light, work light, stern light, white mode ONLY  can be used out of water.
5 LED Functions – Full power, all green mode, all white, half power and flashing driven by computer board with stainless steel button
Tested at a depth of 100 foot = PASSED
1st PATENT of many pending Awarded 12/2017
We baked it at 175 degrees and placed it in a freezer, we ran my truck over it, it still worked.
Watch the MacDaddy smart fishing light video move the catfish off the lights which blacks out lights and shuts down shrimping.
Fishing Shrimping Light 5 Modes: Computer Controlled
FULL POWER submersible green and white LED's ON (preferred mode for shrimping, deep water 10+ foot and deeper)
ALL GREEN LED – Submersible use only
ALL WHITE LED – Submersible use and

TACTICAL

 LAND USE for camping, or emergency stern light, or work light to change tire on the road at night
HALF POWER submersible green and white (shallow water for piers and cuts)
STROBE FLASH – submersible mode to boil up shrimp, blow off catfish, signal night diver, signal down passing boat or tow, warn boats at night your nearby
BONUS – Consumers raving on Social Media, the "strobe" function knocks off bait fish and cat fish blacking out lights. IT'S THAT POWERFUL.
 Fishing Shrimping Light Specifications:
Computerized and patent granted November 2017. Button controlled.
It sinks by default, add our flotation accessories we give you with the light purchase and its the perfect shrimping light
Anglers on social media declared this light as a "must have". Solves all the problems spiral LED lights could not.
Dec 15th, 2017, we evolved/released the light with a multi accessory cord ending (2 pin female)
Light comes with iron copper pigtail plug in clips
Additional accessories can be purchased for this light (car adapter pigtail and 110v/12v converter for wall outlets)
Big black zipper bag to hold the light, 33 foot cord and all your accessories, we doubled the bag size.
Weighs 10 ounces. Built truck strong (Capt Lee filmed running her truck over the light). See video below
12 Inch Smart light, computer controlled (5 features)
Patent awarded on this light 11/6/17
Dual purpose FISHING & SHRIMPING light
Volusia County raving this light shakes off the catfish and bait fish blacking out visuals.
FREE Black zipper case for storage
Light Weighs – 10.3 ounces! Packs the power of a case of dynamite
GREEN LED: 144 PCS/LED's green LED, Brightness: 2200LM pre-assembly
WHITE LED:  72 PCS/LED's white, Brightness: 1700LM pre-assembly
Watts: 40, Amps Max 3.3
Modes : Modes: 1. both colors FULL POWER 100% lighting; 2. green lighting; 3. white lighting; 4. both 50% HALF POWER lighting; 5. both colors flashing
White Mode: Land and water use! Use for camping, hurricane light, work light, or stern navigation light. Metal Gets Hot – can burn hands.
Longline Clip to set depth on pot line INCLUDED
Shrimping Float accessories included
Two Solid copper clips
Stainless steel button near clips to cycle thru various options/modes (2 screws, easy to replace), we will provide free replacement
Light contains hook attachments on both end caps
Top hook for shrimping float to keep light vertical in water column
Bottom hook for counter weight (included) and anchor line/weight (not included with this light), we sell the bundle anchoring system separate.
Acrylic dipped, 4 panel light – NO PVC TUBES to crack or trap air & moisture (PVC spiral tubes often fail after being in hot car and garage for long periods)
Metal Frame – Dissipates heat, tough and rugged, video shows truck running over this light many times. It won't cook in hot garages.
33 foot cord, you can fish this light to 100 feet (can go more just never tested)
High Definition LED, vibrant light field
Manufacture Warranty – 2 years (Warranty is based on extreme usage)
Lumens (GREEN) –  2200 lumens / After Build 12.6V, 2.7A, 34 watts, 1573 Lumens
Lumens (WHITE)  – 1700 lumens / After Build 12.6V, 1.2A, 15 watts, 1377 Lumens
Lumens (BOTH) –     3900 lumens /After Build: 12.6V, 3.0A, 38 watts  3000 lumens
Biggest difference between spiral shrimping lights and the MacDaddy patented light?
MacDaddy fishing and shrimping smart light is factory built in a plant not by a hobbyist in their garage (PVC lights)
New generation of fishing/shrimping light, this light is sophisticated, powerful and finally affordable.
We do not encourage retrieving the light by pulling on the cord to drag the light and weight in.
We recommend tying 30 foot rope to cleat, use Capt Lee formula, clip light on rope and deploy, pull rope to retrieve light/weight.
See Capt Lee's videos on LeeNoga.com, she will be uploading Jan 2018 new deployment technique.
LED choices – The spiral led strips used are considered weak LED's used for festival lighting in Asia. They are too weak power  a traffic light.
MacDadddy LED's – Power traffic lights, they are intense, high definition LED's, with burn life of 50,000 hours.
Spiral LED lights have too much space between the LED's, see pic (China calls LED's in spiral lights "festival" lights.)
Light defaults to sinking when free of flotation accessories attached to hooks via split rings. Just toss  over the side and it sinks.
The can buoy turns the light into shrimping light to hold the light vertical in water column (Hook embedded into top end cap)
Longline clips and counter weight attach to the bottom hook near cord entry to accept the split ring configuration. Comes with light.
Spiral LED lights have dead space between LED's, this causes a weak light field
MacDaddy LED's are close together, small and compact, and high emitting high definition light. Boosts clarity over spirals, cuts thru dirty water.
MacDaddy 3000 lumen single mode ON/OFF light only, no computer card (See our other light)
Has both green and white LED's ON at the same time, this is the single mode. It only has this 1 function (green/white ON) same time.
Green lumens is 2000 and white is 1000. Light was over 4000 lumens before build, 3000 after we added cord. We sent it out for testing.
This light is compatible with all MacDaddy accessories (Car adapater, AC/DC converter, clips pigtail)
12 volt light, 33 foot cord, accessory cord ending, we give you clips, you can buy other accessories in our store
Comes with flotation can buoy, longline clip, 2 0z counter balance weight, and split rings ( no charge)
Iron/Copper clip pigtail comes with this light at no charge, replacement costs $5.95 when it is maintenance time
Big roomy black zipper case to hold your light, 33 ft cord and all accessories.
We give you everything you need except 30 foot of lead strand rope (extra sinks to river bottom an does not float bumping shrimp away) and 7 lb sinker.
Purchase rope that sinks or it will bounce shrimp away under water, add a 7-10 lb weight so light stays where you throw it. Hand weights, concrete made work too.
Marker 69 sells an additional rope and sinker bundle if you want the very best that Capt Lee Noga uses herself ($30).
If you clay garden pot your sinkers, make sure they do NOT roll, Capt Lee pours pointed 7 lb triangle sinker to dig into river bed so it does not drift backwards.
DO NOT run over this light with your vehicle, the acrylic can break if you strike it with your lead (we do not warranty acrylic fractures)
Make sure your boat has no ground problems eating your anode on your engine. If electricity is leaking into the water it will corrode this light and damage your engine. Some dock owners do NOT maintain their docks after hurricanes and they could be leaking electricity from bad outlets that could kill human life if they enter the water.  Avoid docks unless you own a device to test for electricity in water.
Light field is 15-18 circle depending on the quality of the water.
Watch ALL Capt Lee Noga's training videos on LeeNoga.com , she will be addng new videos in 2018, she tours and teaches locally in Central Florida.
Join our Facebook forum, "Florida Shrimping Academy – Tips  & Tricks
Spiral Light LED Dead Space – This adds to their lower intensity emission of light . Note the dark space between the LED's.  LED's that are packed tight together create an intensity that is blinding. The patented MacDaddy product line is nothing short of a nuclear light bomb under water.  Capt Lee Noga knows what the shrimping industry needs, and she has delivered the most universal, high definition fishing/shrimping light on the market. It is a great fishing light too. It sinks, it floats, it does 5 things, it can be paired with a car adapter, a 110v/12v converter etc…or pigtail iron copper clips. China refers to these LED's as "festival" LED and not a quality grade of LED for high boost high definition light fields. Note, the LED's are so spread apart in this PVC light. Look how close the LED's are in the smart fishing and shrimping light. This means the new generation light packs a stronger light field then the older technology spiral made in a garage.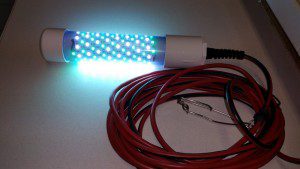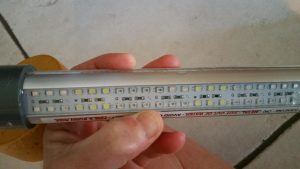 MacDaddy "Smart" Light Fishing/Shrimping Light Pictures
Light Leaking Fear?
Spiral lights DIY builders use thin layer of glue to fit between pipe and end cap. Glue is glue, some manufactures glorify the name of their glue. We all can agree only so much glue fits between cap and the pipe. If we cut off the end of a spiral light, we have all open space un-protected. Water would destroy the light if the end cap was cut off.
We cut the end of our light off, to show you we do not have "thin glue layer syndrome", we have over an inch and half  plug in both ends of solid acrylic glue. Both ends of our light are loaded with a big glue plug. This light will not leak if end caps break or you break the bottom hook throttling your boat to un-lodge a sinker stuck in debris.  You realize we do not warranty your accidents.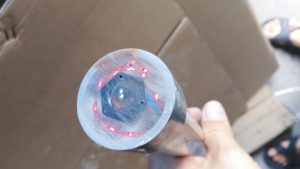 60 Second Video of MacDaddy Smart Light VS LED Spiral Light
Note the light intensity between the two lights. The spiral is dull and the MacDaddy has an intense glow that over  powered the camera. The dull glow is the type of LED used and the distance between the LED's. China does not understand why Americans use "festival" LED's that are not suitable for anything but ambiance lighting. The best LED's are those used in traffic lights. They are not 120 degree directional because traffic light intensity requires a smaller angle. So 120 degree directional is not a boost for a shrimping light if your shopping lights. The MacDaddy product line uses traffic light LED's and this is why you see the glow off a very skinny light compared to a 3 inch PVC tube.
Capt. Lee Noga Shrimping Teaching Videos Link Below.
Click  – For MacDaddy Smart Fishing Light™ &  MONO Gear: – Educational videos
Note: Seasonal store call anyways to check on availability (May-Oct)  (386)334-4504.
FACEBOOK SHRIMPING/SCALLOPING INTEL
Scalloping reports on Facebook at the "Florida Shrimping Academy – Tips & Tricks™". CLICK HERE. This is the largest group for shrimping, scalloping, lobstering and gator hunting.
Additional information
| | |
| --- | --- |
| Weight | 2 lbs |
| Dimensions | 12 x 12 x 12 in |