Shrimping Light Reviews – MacDaddy Smart Light™
Shrimp light reviews has entered a new generation of sophistication in the Fall of 2016. Consumers wanted ONE night – ONE Fight – ONE Light. The market has asked for one UNDERWATER 12v light to serve many purposes. Wait no more, Capt Lee Noga heard you. She even gave you a "mode" to use for camping and land use.
Want To See The "SMART" Shrimp Light Reviews Video?
GENERATION – SHRIMP LIGHT Reviews
2010 – First generation LED spiral PVC tube light (60 Green, LED 14.4 watts)
2013 – 2nd generation LED spiral PVC spiral tube light (Green/White LED's)
2016 – 3rd generation LED light –

New design,

High Definition Clarity

& Smart Controlled
"NO MORE" says Capt Lee Noga – " 2010 Spiral wrapped DIY made lights are NO longer State of The Art – there is a new Sheriff In Town"
The spiral wrap LED shrimping lights will always be a favorite build for DIY folks. For 6 years commercial shrimping lights were built by local entrepreneurs in their garages. Spiral shrimping lights are not designed nor built for heavy use. DIY built lights lack quality control.
This new generation 2016 MacDaddy Smart light™ has been built in a factory. Factory built lights reduce those failures caused by home made builds. Strict quality control standards are in place.
Spiral Lights – FAILED under heavy use (see below). There is no way to eliminate the trapped air between the white end caps. Moisture and condensation is a problem for which silica packs did not always absorb all the moisture. The LED strip is exposed to extreme heat with no adequate dissipation system besides submerging.
2009 to 2016 – SPIRAL LED SHRIMP LIGHT REVIEWS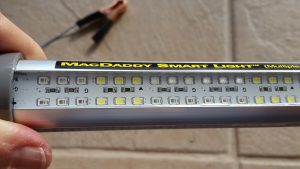 The MacDaddy Smart Light™ brings innovation, sophistication, durability. Tightly packed LED's bring a "high definition" light field clarity. This light is the most technologically advanced fishing & shrimping light brought to market. The button cycles they light modes. The button is easily replaced if damaged (we ship to you for free). This light gives you 6 features and high intensity light field (3000 lumens, 38 watts, 3 amps).
See the spiral picture picture below:
The spiral shrimping light creates a lot of "negative" (dark)space between the LED's.
This creates a light field that is dull.
We had know idea this was problematic until we placed the smart shrimping "high definition" light to next to it. You can see this negative space in the above video.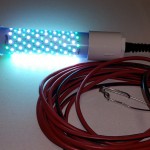 HISTORY OF SPIRAL SHRIMP LIGHT REVIEWS
The spiral LED shrimping light was a huge phenomenon in 2009 when Pete Wehner brought the first LEDgreenie to market. It was 60 green LED, 14.4 watt light. It was a game changing innovation.
In 2012, William Oberender took the spiral light to a new level when Pete Wehner stated he did not believe in the green and white LED concept in the same light. The MacDaddy was born bringing x2 the power, 2 LED colors and 3 options depending on how the battery clips were configured.
This forced all spiral shrimping light builders including Wehner to adapt to this new "dual color" standard set forth by the MacDaddy spiral shrimping light. Over the years the market became flooded with these DIY shrimping lights as the cost of the LED's came down. As LED's became more affordable, the choice of LED type became more powerful. This became a concern to many about how well the light would do over time under excessive heat & use.
Pete Wehner who introduced the first LED spiral light admitted these shrimping lights were coming to the market without long term testing. New companies entered the spiral shrimping light market by promising greater power, more LED's, stronger LED's. Capt Lee's concern was nobody knew the threshold of the light with high heat and lumens. Air was trapped inside the light when the end caps were glued. A silicone packet was inserted to absorb moisture. There is no question many spiral shrimping lights failed after 1-2 seasons with high usage.
NEW GENERATION SHRIMP LIGHT REVIEWS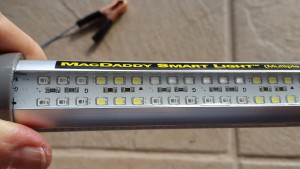 Capt Lee Noga felt the shrimping light was no longer evolving. The shrimping industry had proven the need for a high performing shrimping light. The problem was 1 spiral light was built in 2012 with 2 colors and many companies started to flood the market using this standard. Consumers were getting frustrated with the spiral shrimping light over the years for a multitude of reasons.
It was time to innovate a light that solved the problems the consumers have wanted to see changed for years. The building of lights had to be moved to a factory & engineered to fit the demands of the night time angler. The spiral shrimping light was to specific for Central Florida, and over powered the light field for those shrimping in shallow waters or off bridge and piers.
FACTS ABOUT SHRIMPING LIGHT RETAILERS
Other vendors give you LUMENS from LED out of package based on manufacture data
Once LED's are placed in a tube or dipped in acrylic, the LUMENS are greatly reduced. The darker the PVC for example the more lumens are muted. We actually sent our BUILT shrimping light to be tested, and 30% of the lumens were reduced when built into our light and dipped in clear acyrlic. Lumens are misleading on several vendors sites. So do not shop based on advertised lumens.
We publish our LUMENS before and after the build.
1. green color only: 12.6V, 2.7A, 34 watts, 1573 Lumens —–BEFORE BUILD – 2200 lumens
2. white color only: 12.6V,1.2A,15 watts, 1377 Lumens —– BEFORE BUILD – 1700 lumens
3. Both colors: 12.6V,3.0A, 38 watts 2950 lumens —– —- BEFORE BUILD – 3900 Lumens
"SMART" Shrimping Light Modes: Computer Controlled
Automatic LED Test Mode (dimmed to spare your eyes) for 5 seconds every time you hook to a battery, to make sure your light is 100% operational before leaving home – Mode 1
FULL power green and white LED's ON (preferred mode for shrimping, deep water 10+ foot and deeper) – Mode 2
ALL GREEN LED only – Mode 3
ALL WHITE LED – Submersible use and LAND USE for camping, or emergency stern light, or work light to change tire on the road at night – Mode 4
HALF power green and white (shallow water for piers and cuts) – Mode 5
FLASHING – boil up shrimp, signal night diver, signal down passing boat or tow, warn boats at night your nearby – Mode 6
Stainless steel button near clips, stainless steel button to cycle thru the different light modes. Easy replacement, 2 screws and auto re-syncs to computer. FREE replacement buttons.
Yellow LED in below picture are the white LED's, the clear ones are the green. Every group of 6 LED's is a alternating color of white or green depending on mode selected.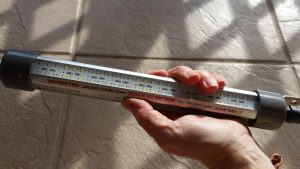 Multiple Platform Specifications:
Fishing Light – Defaults to sinking & drifting in current, 33 foot cord
Shrimping Light – Accessorized to float upright, bottom attachment hook & split ring for 8 lb anchor to keep light from drifting, 33 foot cord
Tactical Mode – Camping and land use.
Test Mode (5 seconds), Full power, all green mode, all white, half power and flashing driven by computer board and stainless steel button
SHRIMPING LIGHTS – SMART SPECS
12 Inch Smart light, computer controlled (5 features plus LED test mode)
Multiple patents pending
Dual purpose FISHING & SHRIMPING light
FREE Black zipper case for storage

FREE – 17 foot Lead strand POT LINE & 8 lb sinker ($25 value) (Limited Offer)

Weighs – 10.3 ounces! Packs the power of a case of dynamite
Complete setup – GO from us to the water, NOTHING ELSE TO BUY
GREEN LED: 144 PCS/LED's green LED, Brightness: 2200LM pre-assembly
WHITE LED: 72 PCS/LED's white, Brightness: 1700LM pre-assembly
Watts: 40, Amps Max 3.3
Modes : Modes: 1. both colors FULL POWER 100% lighting; 2. green lighting; 3. white lighting; 4. both 50% HALF POWER lighting; 5. both colors flashing
Testing Mode : Test mode (5 seconds) checks LED performance, happens initially after battery hook-up, lasts 5 seconds only in dim mode to not blind you.
White Mode: Land and water use! Use for camping, hurricane light, work light, or stern navigation light. Metal Gets Hot – can burn hands.
Light defaults to sinking for fishing, converts to a floating shrimping light with accessories
Long-line Clip to set depth on pot line INCLUDED
Shrimping Float accessories included
Two Solid copper clips
Stainless steel button near clips to cycle thru various options/modes (2 screws, easy to replace), we will provide free replacement
Light contains hook attachments on both end caps
Top hook for shrimping float to keep light vertical in water column
Bottom hook for counter weight (included) and anchor line/weight (not included with this light), we sell the bundle anchoring system separate.
Acrylic dipped, 4 panel light – NO PVC TUBES to crack or trap moisture
Metal Frame – Dissipates heat, tough and rugged
33 foot cord
High Definition LED, vibrant light field
What happen if the stainless button gets ripped off wire? We send you free replacements. Two screws and your back in business.
Manufacture Warranty – 2 years (Warranty is based on extreme usage)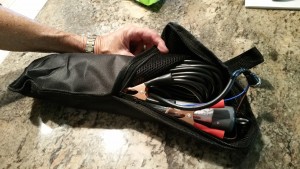 IMPORTANT LINKS – CAPT LEE'S TRAINING VIDEOS
MACDADDY SMART LIGHT™ – WHAT HAPPENS IF PLASTIC ENDS CRACK ?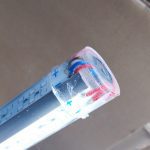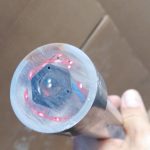 NO LEAKING – SOLID ACYRLIC FILLED, others will tell you the plastic end cap will crack and leak. We removed the cap and submerged this light for a week, and no leaks. We took a mitre saw and cut the cap to show you solid plug, spiral lights cannot offer this kind of engineering.
MARKER69.COM SHRIMPING LIGHTS FOR SALE & NET STORE
Click Here – For MacDaddy Smart Fishing Light™ & MONO Gear Stre:
Note: Seasonal store call anyways to check on availability (May-Oct) (386)334-4504.
FACEBOOK SHRIMPING/SCALLOPING INTEL
Scalloping reports on Facebook at the "Florida Shrimping Academy – Tips & Tricks™". CLICK HERE. This is the largest group for shrimping, scalloping, lobstering and gator hunting.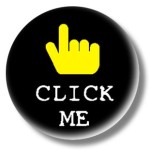 CLICK BUTTON TO

GO TO Marker69.com ONLINE STORE
Marker69.com on-line store is exclusive distributor