Super Bright Shrimping Light
Super Bright Shrimping Light™ was built by Capt Lee Noga after filing for a patent. She remains in research and development looking for ways to innovate and evolve all aspects of shrimping equipment. From shrimping lights to shrimping nets, she is committed to resolving troublesome areas of our gear.
Want To See  A Green & White Light Field?
The MacDaddy™ shrimping light brought the first green and white shrimping light to consumers in 2012. The MacDaddy series  is the gold standard and is back into research and development. We are no longer making the MacDaddy shrimping lights this season and look forward to bringing this light back in the fall.
In the interim, Capt Lee has built a high power green/white light that delivers 1.9 amps per color, and delivers 45 watts of light.
If you are not familiar with the green and white light, have a look at this older MacDaddy video that shows how profound using green and white light shrimping light is….
Click Here To View Video —> https://youtu.be/80nkODESyOg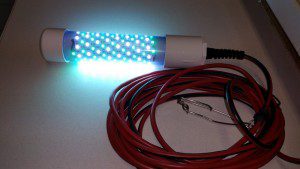 Here are the specs:
Shipping not calculated, you have to call Marker 69 and pay separate (386)479-4175
We ship Post Office priority mail, or you can pick up by calling (386)334-4504/ Jan.
We are Oak Hill Flea Market on SUNDAYS only 8 to 12:30pm
Light is 12″ long, contains green and white strip of LED's (Hybrid)
MacDaddy™ LED Pro Series – Patent Pending 62247384
33 ft 16/3 SJTW high visibility cord, rated for water
3 copper plated clips (2 positives and 1 negative)
Green strip has 1 1/4 meter has (75 led's) 5050 green LEDs 1.9 amp draw tested x 12v dc = 22.8 true watts at clip
White strip 5050 chips, 1.9 amps draw tested x12v = 22.8 watts
Requires deep cycle battery due to watt draw
DO NOT use this light out of water.
33 foot cord insulated & filled, rated for water, other light builders use garden cords.
Spring relief attachment at base of shrimp light to save cord
Stainless Steel O-ring for accessories (for rope & clip attachment)
120 lb long-line clip included to clip light on rope to adjust depths
Get free 25 page book from Capt Lee on deployment tricks & tips.